Day 1 :
Keynote Forum
Acupuncture Association of Victoria, Australia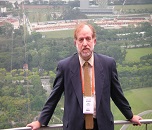 Biography:
Dr. Serg Mezhov , has been practicing different modalities Eastern as well Western medicine from 1979 back in Soviet Union until it's end and then up till now in Melbourne, Australia. He is disciple of Lee family acupuncture tradition and has major interest in Spinal column disorders.
Abstract:
All treatments we producing are start from diagnosing and pathology differentiation, following up by designing of treatment plan and then therapeutic methods. We know what is necessary to apply in variety of disorders and when it comes to the session, we have a lot of tools like: points selection methods and herbal combinations or techniques to use for stimulation etc. However there are" missing link" in many cases of treatment not being utilized – variation of different methods approaching of the points; needling, burning, pressure, plod releasing and positioning. This is what I want to punctuate today, what is the best to do out of Acupuncture- Zhen, Moxibustion- Jiu, Bloodletting- Fang Xie, Cupping- Ba guan, Finger pressure- Zhen fa, Setting manipulation- Zheng gu in time of therapy and haw combine all above methods together.
Basically we have to major approach to the body in TCM - stimulation and sedation, so what we can do is more or less should fall in those two effects. Also two substances we are dealing with are Blood and Qi, in traditional way, also have preferred effects to be applying. And last, but not least is place or subject where results expected to be. From all those points we shell look at selection of our intervention to maximize treatment success.
Keynote Forum
Integrated Health, Australia
Time : 10:00-10:50 A.M

Biography:
Integrative Medicine Practitioner and Naturopathic Physican, Dr Jason Mallia is the founder, director and principle Clinician of Integrated Health Australia. He is an accredited Naturopathic Clinician, Registered Acupuncturist and accredited Doctor of Integrative Medicine Practitioner (USA) having received accreditation in Australia, the US and other countries worldwide . He is also an accredited Homoeopath, Medical Herbalist, Clinical Nutritionist and Musculoskeletal therapist Jason is one of Australia's most qualified Integrative Natural Medicine and considered one of Australia`s Leading Naturopath Practitioners with over 17 yrs experience as healthcare professional and a background in all major natural medicine modalities including training in Naturopathy, Chiropractic, Acupuncture and Herbal Medicine . He has appeared on radio both locally and abroad and is a published writer for the Journal of Natural Medicine ( South Africa). He more recently received his Doctorate of Philosophy in Integrative Medicine Publications , Concepts of Integrative Medicine Editon and The Wounded Healer
Abstract:
The objective of this clicnical research study is to examine components of integrative medicine in order to help the clincian understand its benefits, limitations and application in chronic health conditons such as cancer and automimmune disease, With the rise in chronic health conditons worldwide the author examines an approach to such conditions using a gentetic and blood typeapproach. This study was performed to outline why there is a need for such an approach and how it is possible. A practical clinical approach has been used to demonstrate how this is possible in modern day practice. A description of various systems are given and utilised in and integrative approach to chronic disease, also to indicate when an intervention is required in an integrative health care system. The foundation of the approach utilises a gentic and blood type approach specific to the individuals requirements for greater clinical outcomes. Another aim is to help clinicians decide whether an integrative or specialist approach is necessary for a patient's best prognosis. Multiple case studies are provided to demonstrate the effectiveness of the approach.
Keynote Forum
AlHajri Holistic Health & Wellness LLC USA
Time : 12:00-12:50 P.M

Biography:
Faris AlHajri-PhD(AM), is an expert, international speaker and discoverer of Aqua Calidum Therapy-ACT (known as Hot Water Therapy). He received Health Excellence Award. He presented his papers in International Conferences, was interviewed by various Media and has conducted lectures in Universities, Colleges, Health Organizations, Schools, and Public; in USA, UK, Philippines, India, Oman, Qatar, Saudi Arabia, and United Arab Emirates. He authored two books; "Hot Water Miracles"; "Well-Being Values", displayed in international Book Fairs;New York, London, Frankfurt, Beijing, etc.. He is the Honorary Advisor/Patron of World Yoga Foundation (India), and Sandhya Maarga Holistic Living Academy (Malaysia).
Abstract:
Aqua Calidum Therapy-ACT (known as Hot water therapy), is new Holistic Health approach as a toxic free, harmless sacred, distilled and boiled universal solvent (water), as discovered by the Author and his extensive personal researches he conducted for the past nine years.
Aqua Calidum Therapy comes with various modalities, such as Therapeutic Methods of Drinking Hot Water, the most efficient and essential, Hydrothermal Compress Therapy, Hydrothermal Steam Therapy, etc. Hot Water Therapy kills harmful bacteria, neutralize toxins and melt the fat deposits inside our bodies. It it the source of Fetal Development, due to the fact it is the only source of essential elements the human body needs to maintain healthy cells, and overall health in all aspects; physically, Emotionally, Mentally and Spiritually.No human being could ever complete his fetal growth before birth, without the presence of thi miracle natural liquid with its temperature above the body's normal temperature of the expectant mother.